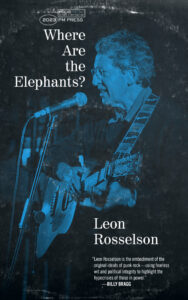 Leon Rosselson has spent a lifetime chronicling the times in song and envisioning the birth of a world after capitalism.
His book is an absorbing account of his journey from a childhood during the 2nd World War to lockdown during the pandemic, with lyrics from his songs to light up the way.
Also available, a compilation of all the songs mentioned in the text on CD or on a double LP. Both include all the song lyrics. The double LP has liner notes by Robb Johnson.
'Like many of his more complex songs, Leon Rosselson's eminently readable memoir consists of discrete – and sometimes seemingly disparate – sections yet coheres as a fascinating deeply thoughtful whole.'

– read the full review on Morning Star
'This is a gem of a book… Leon's writing is often laugh-out-loud hilarious. At other times it is moving and reflective…'

– read the full review on Jewish Voice for Labour
'One of the joys of this book is the writing. Rosselson has written for children but he is a good adult writer. Orwell would have approved of his uncluttered, clear style.'

– MQB Magazine
Number 1 beach read for the summer: 'Leon Rosselson weaves his own musical and political journey into an extraordinarily powerful account of how with acoustic guitar and a good tune, while we may not be able to dance to it, the spectacle of how and why we must change the world is more than enough to have us humming along.'

– Philosophy Football
'I am reading with immense pleasure, Rosselson's memoirs, a slim but absorbing volume combining essays and those clever witty lyrics.'

– Salut Live
'It would not be hyperbolic to describe Leon Rosselson as a living legend…. The book is an engaging read'

– read the full review on Labour Hub
Order Your Copy Now
Mail order from Fuse Records (UK Only)
Price: £12 (incl. postage)
Use the Buy Now button above to order via PayPal, or send your order and a cheque as per the Mail Order instructions here
Order online from PM Press